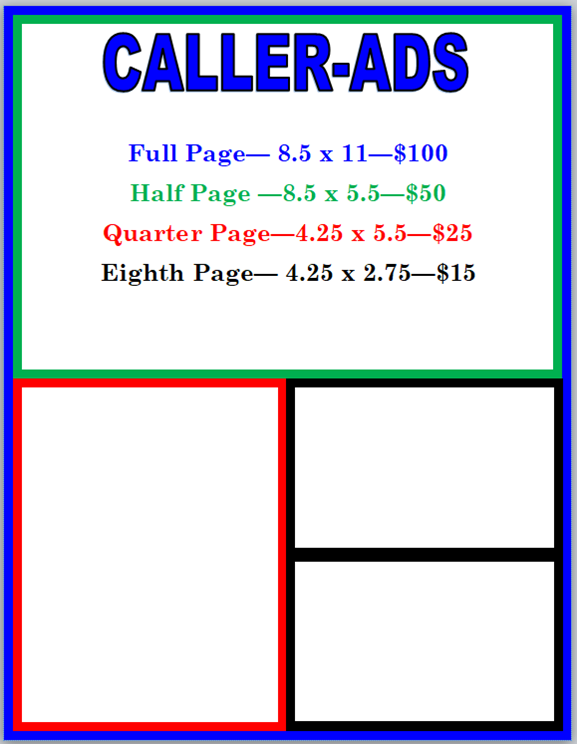 CALLER-ADS is an electronic ad publication sent to all CALLERLAB members.
CALLERADS will be published twice each year (spring and fall) with only advertisements.  It will be sent to all CALLERLAB Members, Affiliates and License holders.  Advertisers will also be listed in the Advertisers section of the CALLERLAB website.
Any individual or group can request space in the CALLERADS publication.  Ads could be for music producers, caller schools, equipment sales,  conventions, insurance, self-promotion, cruises, note services, or other products and services.  The Home Office has final approval on any submissions.
Ads should be submitted with payment in full to the Home Office via email no later than the following deadlines to be included:
Spring (published in May): April 1
Fall (published in October): September 1
Please note, all prices are per edition.
Contact the Home Office with any questions.
Note to Advertisers:
Make sure your ad fits in the box of the ad size you select.  The Home Office prefers that your ad be submitted via Publisher; however, you may also submit as a Word document, JPG, PNG or PDF.  If you need assistance formatting your ad, contact the Home Office at info@CALLERLAB.org.
Ads should be submitted with payment in full to the Home Office via email no later than the following deadlines to be included:
Spring Ad Deadline (published in May): April 1
Fall Ad Deadline (published in October): September 1