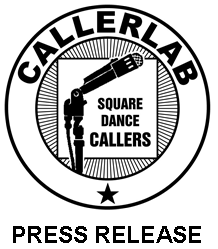 FOR IMMEDIATE RELEASE
(July 2022)
 * * * * * * * * * * S T A R T * * * * * * * * * *
CALLERLAB Announces "CALLERADS"
 Article by: Ted Lizotte, Vice Chair of CALLERLAB
Communication: It's the building block of any business, and yours is no different. Let's think about it.
For our dancers, we must effectively interpret and communicate call definitions to increase understanding. We must be clear and timely in our delivery of our material to have any hope of its successful completion. From a social aspect, we need to communicate the bigger picture, the sense of teamwork, of community, of inclusiveness.
To our fellow callers, we need to communicate a multitude of things. Sure, we've come up with a bunch of ways to discuss choreography, formations, committee work, etc., but what about the bigger items? Callers need equipment, music, schools for education, convention opportunities and the like. However, our ability to communicate with our target market, other callers, is probably one of the biggest challenges regarding communication that we have.
Throughout Modern Western Square Dancing's tenure, the ability to easily reach other callers has been tenuous at best. Sure, we've improved from snail mail to email and social media; but not everyone is on Facebook, Twitter or whatever the next big platform is, and the more platforms that we use, the more fractured our base becomes. If a store was to market only to people who somehow made it into their store once, you would think that's short sighted; but that's effectively what we do today. Email lists are generated from past customer lists. Ads are sent out to social media platforms reaching a small percentage of our market.
CALLERLAB has recognized that this is a challenge for all our current and future members. So, we think we've come up with a solution.

Beginning this year, included in your membership will be a free digital only subscription to a new CALLERLAB sponsored publication–CALLERADS. To begin with, CALLERLAB will send a bi-annual publication with nothing but ads that are specifically meant for other callers. Think of the possibilities! Ads for caller's schools, square dance music labels, notes services, online instruction, calling equipment, and badge engravers come to mind first. But in the future, who knows? Maybe ads from travel agents hoping to assist you with that special get together; or that lodge or hotel that wants to help host your festival or special event or dance.
CALLERADS will allow businesses trying to market specifically to callers, the opportunity to reach our full membership as well as any affiliate organizations. This publication will come from the Home Office, who will have final say over all requested advertisements. Again, this publication will be digital only. Our members' email addresses will NOT be shared with anyone advertising in CALLERADS. Your privacy in that regard is important to us.
Not interested in the extra email? You can delete it or opt out of the email entirely. But why would you? All those links will be available at the click of your mouse, specifically designed with you in mind.
We hope that this tool will become a central spot for callers to reference to fulfill all their calling needs. A one stop shop, if you will, to help you find what you need so that you can do the best job you can and spend your time where it should be–on your craft and your dancers.
Look for more information concerning costs to advertise, accepted formats, etc. on the CALLERLAB website: callerlab.org/callerads.  The Home office will begin taking ads from July 11, 2022 to September 1, 2022 with an expected delivery to your inbox in early October.
We think this is an idea whose time has come and we look forward to witnessing its evolution. Thank you for being a CALLERLAB member and for your support as we continue to find ways to make calling better.
* * * * * * * * * * E N D * * * * * * * * * *
We thank you for the coverage you have given us in the past and for your continued support in the future.